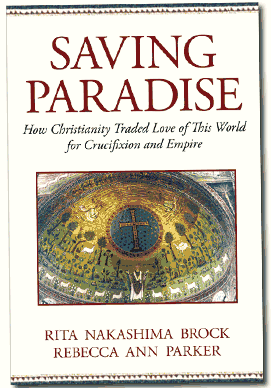 Saving Paradise: How Christianity Traded Love of This World for Crucifixion and Empire restores the idea of Paradise to its rightful place at the center of Christian thought. Rita Nakashima Brock and Rebecca Ann Parker offer a fascinating new lens on the history of Christianity, from its first centuries to the present day, asking how its early vision of beauty evolved into a vision of torture, and what changes in society and theology marked that evolution.
Only rarely is a single book an event. This book is such a rarity.
-Daniel C. Maguire, author of A Moral Creed for All Christians
Every Christian theologian and preacher should read this book and be profoundly challenged.
-James H. Cone, author of Martin & Malcolm & America
Descriptions of [the] art, quotes from early Christian writers, and strong analyses reveal a powerful "genealogy of paradise" This humane and often beautiful study of faith, loss, and hope straddles the boundary between historical discovery and spiritual writing.
-Publishers Weekly, starred review
Brock and Parker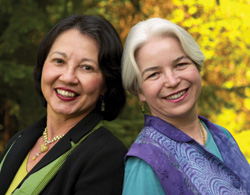 Rita Nakashima Brock & Rev. Dr. Rebecca Parker
Photo by Yen Li Studios